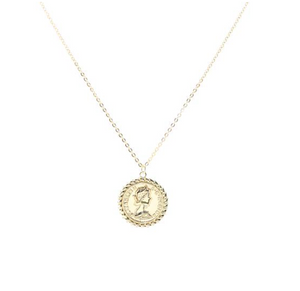 Yes Queen! This necklace is for you! A gold medallion necklace that can be worn everyday and layered with your gold necklace collection to perfection!
This BB Lila line is triple 18K gold plated. This brand is based in Texas and is woman owned. 
Queen Features: 
-16" Long Round Link Gold Chain 
-3" Extension, Lobster Clasp
-Gold Embossed Coin
-Comes in a Small Gold Tin 
 This baby is made in the good ol' U.S.A!