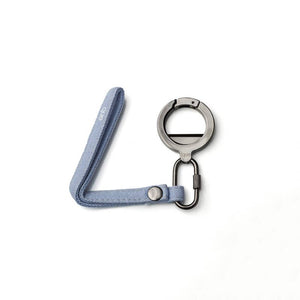 A light sky blue strap connected to the carabiner. Easily attach this keychain to your loop top cap of your collapsible water bottle to easily attach it to your bag or carry it!
It's also a  3 in 1 everyday accessory that keeps life organized. 
With a carabiner that easily attaches to a bag or purse, you will always have your keys right by your side.
Plus, it's also a bottle opener.
Carabiner that can attach to a bag, pants, or purse (Compatible with our Cap with Loop)




Twist open key ring that can fit up to 6 keys




Center bottle opener for all your favorite drinks




A strap with large opening that can hang around your wrist




Materials: zinc alloy (Carabiner), brass (Key Ring), 100% cotton and vegan canvas (Strap) Length: 8.5 in (with strap) Width: 1.5 in (carabiner)




Weight: 1.3oz