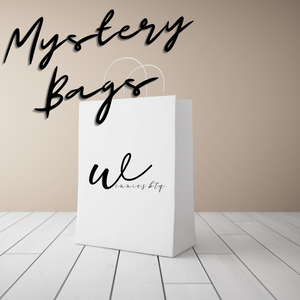 The $45 mystery bag is such a great surprise! You will receive 5 clothing items in your package!
Mystery bags include clothing pieces for you at an extremely discounted price point! At least one of your items will be worth more than the total price of your mystery bag! You can't beat this deal!
$45 Mystery Bag Includes: 
Five clothing Items
Select the size for clothing options. Sizing options are Small, Medium, Large, X-Large, 1XL, 2XL, 3XL. Your mystery bag will contain all clothing items in the size of the collection that you selected.
All mystery bag items are final sale. There will be no exchanges or returns available for mystery bag items.
You can select in store pick up or $5 flat rate shipping at checkout.