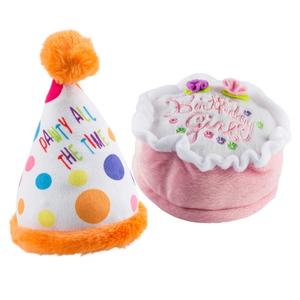 Let's celebrate the fur babes with these cute Birthday dog toys! Your fur baby is going to love playing with these birthday toys!
Choose from one of two styles; Birthday Pawty Hat or Birthday Girl Cake
Birthday Girl Party Dog Toys features:
squeaky




Birthday Girl Cake: features pink cake with "Birthday Girl" flowers design




Birthday Pawty Hat: features "pawty all the time" birthday hat with polka dots and fuzzy trim




All toys are cotton and polyester with stuffing.